From Creative Comms to Art Teaching
After a pretty fabulous six months at Mindfully Wired, working on sustainable seafood marketing initiatives Discover Seafood and Seafood Cornwall, Creative Communications Intern Sophie is swapping cute marine animals for terrifying teenagers, finishing her internship to prepare for her PGCE which begins in September.
July 5th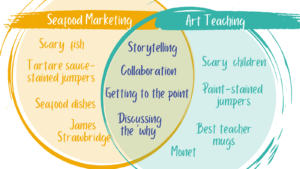 There's no doubt it's been an atypical Mindfully Wired experience for me over these past few months. It's a little strange to think that I've met a whole new group of people, seen them every week (made actual friends!) and yet I still have no idea how tall they all are. However, it's a testament to the warmth, friendliness and comradeliness at Mindfully Wired that experiencing it all online has not made me feel any less of a fully-fledged member of the #KeenMarine team.
On first thought, it might seem a giant leap going from a creative communications role – drafting social media posts about seasonal seafood, editing event recordings, designing presentation decks – to standing in front of a class of children (*gulp* face-to-face) and teaching them art, but I beg to differ. Once I started noting the similarities down, I realised Mindfully Wired has prepared me in more ways than one to survive the classroom.
Spin a good yarn
I've learnt that effective communication is all about good storytelling. When you need to share an important message but the content itself is a little dry ('dry' = not going to be a hit on social media, engagement-wise) it's up to us as communicators to find an interesting angle that will resonate with people. Specifically, I've learnt that pulling out the 'human' thread from your content is often a helpful way for people to relate to a story. If your audience can relate to what you're telling them, they're more likely to be drawn in, feel excited by what they're reading and voila! You've succeeded in teaching them something new. At this point I've lost track if I'm talking about teaching or creative comms – but hey, inspiring storytelling is just as important for both of them.
Cut the carp
Sometimes, you'll know you have a good story, but you need to make sure you tell it correctly. Writing social media copy has taught me that keeping things clear, simple and understandable is just as important as a cracking good storyline. You might have a good narrative but if you deliver it in an incomprehensible, unnecessarily complicated, long-winded, boring, repetitive, overly-wordy…sorry, have I lost you? The audience doesn't understand what you're saying, can't remember the point of it all, and they're probably bored. A classroom of bored teenagers is what I fear most. Social media copywriting has taught me the value of getting to the point.
Why o why
Those are the 'whats' and the 'hows' but comms has also taught me another good word to consider; the 'why'. Why are we communicating this specific information with our audience? The first thing Rachel told me when I started writing social media posts for Seafood Cornwall was to never post for the sake of it. There must be a point to every post; to educate, to inspire or to motivate. Never write content just to fill the empty space (there's already enough of that floating around the internet), write with a purpose. In my short experience of teaching so far, the 'why' question comes up a lot. Not just, "why do I have to learn art?" but "why are we learning this?" When planning lessons in the not-so-distant future, asking myself "why?" will be a useful guide to keep lessons focussed. To remind myself to educate, to inspire and to motivate.
Teamwork dreamwork
There's so many other points on my venn diagram of things I've learnt that will help me become a better teacher (I'm more adept at Adobe! I'm a pro at Canva pro!) but I couldn't sign off without mentioning that teaching is also about collaboration, which the Mindfully Wired team are all complete experts at. Not just working together in a team, but everyone here will go out of their way to share their time, their knowledge and their expertise with a colleague who needs a bit of help, no matter how busy they are (and everyone is always, very busy!). What a lovely bunch and what a pleasure it is to work with such a generous team of people.
This is goodbye to Mindfully Wired but only for now, as I'm determined to meet everyone in person, and assess everyone's height, upon my next visit to the great city of Bristol. My future students should prepare themselves for a lot of marine art projects as I am a fully committed #KeenMarine for life. After celebrating and promoting UK seafood so much for Seafood Cornwall and Discover Seafood over the past few months, I've discovered that my new favourite fish is megrim sole (or Cornish sole as it's known locally!!!) and I'm prepared to fight anyone who tells me its crossed eyes aren't cute. Look. At. Them.
A huge thank you to everyone at Mindfully Wired for making my time here so fantastic and thank you to The Fishmonger's Company for offering the internship in the first place. I feel very lucky to have been a part of this special team for a short while and I can't wait to meet you all in person.