Lessons from Devon: what getting away from our desks taught us
"I definitely loved having the team all together in the outdoors. Apart from throwing your managers off of giant paddle boards, there was something special about 8 am dips with colleagues, synchronised dancing in fields and looking forward with MWC." Kim, Design Officer and Head of Flamboyant Rock Jumping.

From falling off giant 8-person paddle boards to difficulties escaping an outdoor escape room (how is that even possible?), our team away days were jam-packed full of laughter, snacks, and valuable lessons that we could bring back to the office. The whole team ventured to Salcombe, Devon for a one-night camping trip and took part in team-building activities to strengthen our (already pretty strong!) bond.
Lesson one: Communicating to crack the codes
A time sensitive series of problems to solve as a team. No we're not talking about a project brief, but sscape rooms. This outdoor escape room involved a series of elaborate puzzles, codes and hidden items set atop the picturesque backdrop of the Devonshire countryside.  
Paul, MWC's Events Manager, said "It was amazing to see people working together to creatively solve puzzles in the outdoor escape room with no thought to the normal hierarchies or teams. I never knew everyone was so talented!"
Ironic as it may be for comms pros, solving puzzles under time pressure was a pretty great reminder in the importance of communicating effectively, and making sure we were delegating tasks in a way that played to everyone's strengths. 
Lesson two: Working in sync to tackle a wild ride
Turns out, as a collective, we're a wildly competitive bunch. The already quite niche activity of riding 'super SUPs' (stand up paddleboards) was taken to the next level when the instructors pitted half of us against the other for a series of races and challenges.  Team crab whipped out rowing cox calls to ensure the team paddled in-sync, team octopus resorted to heavy splashing, and by the end all techniques were out the window with totally unjustified 'pirate attacks'.
Science and Policy Projects Co-Manager, Elle, said "At MWC our differences really are our strengths – from the strategic thinkers who can puzzle their way through a giant maze without breaking a sweat, to the movers and shakers who can choreograph a synchronised routine to the Lord's Prayer in 15 minutes – we all have unique skills and mindsets that, when combined, become our collective superpower.  After all, there's no 'I' in 'PutTheWholeCompanyOnAHugeStandUpPaddleBoardAndSeeWhereYouGet'!"
Lesson three: You can't take the keen out of #KeenMarine! 
It's highly probable that this is the first time a group on the Super SUPs were, at times, highly distracted by marine life in rock pools, seabirds overhead, and identifying various pieces of floating seaweed to concentrate on the giant paddleboard. After all, you can take the Keen Marines out of the office, but you can't take the instilled-obsession-with-all-things-marine-life out of the keen marines. Or words to that effect. 
MWC's Events and Social Media Assistant, Becky, shared her thoughts on the nicer side of the team: "I loved having nearly the whole team together in one place, and in a place we all love – by the sea! A real highlight was piling all of us on two giant paddleboards, and the transition from pure chaos at the start, to (what felt like) paddling with the speed and cohesiveness of Viking warriors!". 
Joe, our Creative Communications Officer, focused his highlight of the trip on how we all have a competitive streak in us, "watching my co-workers push each other into the sea from giant paddle boards to steady themselves was both bizarre and hilarious, and not reflective at all of how we work together." 

Lesson four: A team full of talented people
The next day we learned how we were all talented, but in very different ways. Events Manager and designated Chief of Fun, Paul,  split us into four teams to create a synchronised performance in twenty minutes; the significant word here being 'synchronised'.
From a dance routine to a (totally on-brand) 'Under the Sea', to a surprisingly harmonious  whistling rendition of Dancing Queen by ABBA, and coordinated can-cans to a saucy recital of the Lord's Prayer (apparently that was the one thing the team knew that all knew), this task had us all surprised at each other's hidden talents.
Key learnings = a) giving four groups the same weird brief produced four wildly different approaches and outcomes. b) Doing something this weird didn't feel uncomfortable amongst a team where you're made to feel included and confident to perform. And c) creativity expresses itself in a plethora of different ways, and none of them, not even the whistling ABBA, are wrong. 

Although everything up to this point was technically working, we did some more – ahem – conventional work as we looked at the future of MWC. We reflected on our new learnings from the trip such as individual talents, working in sync, and effective communication, to think about how we could bring them into our work moving forward.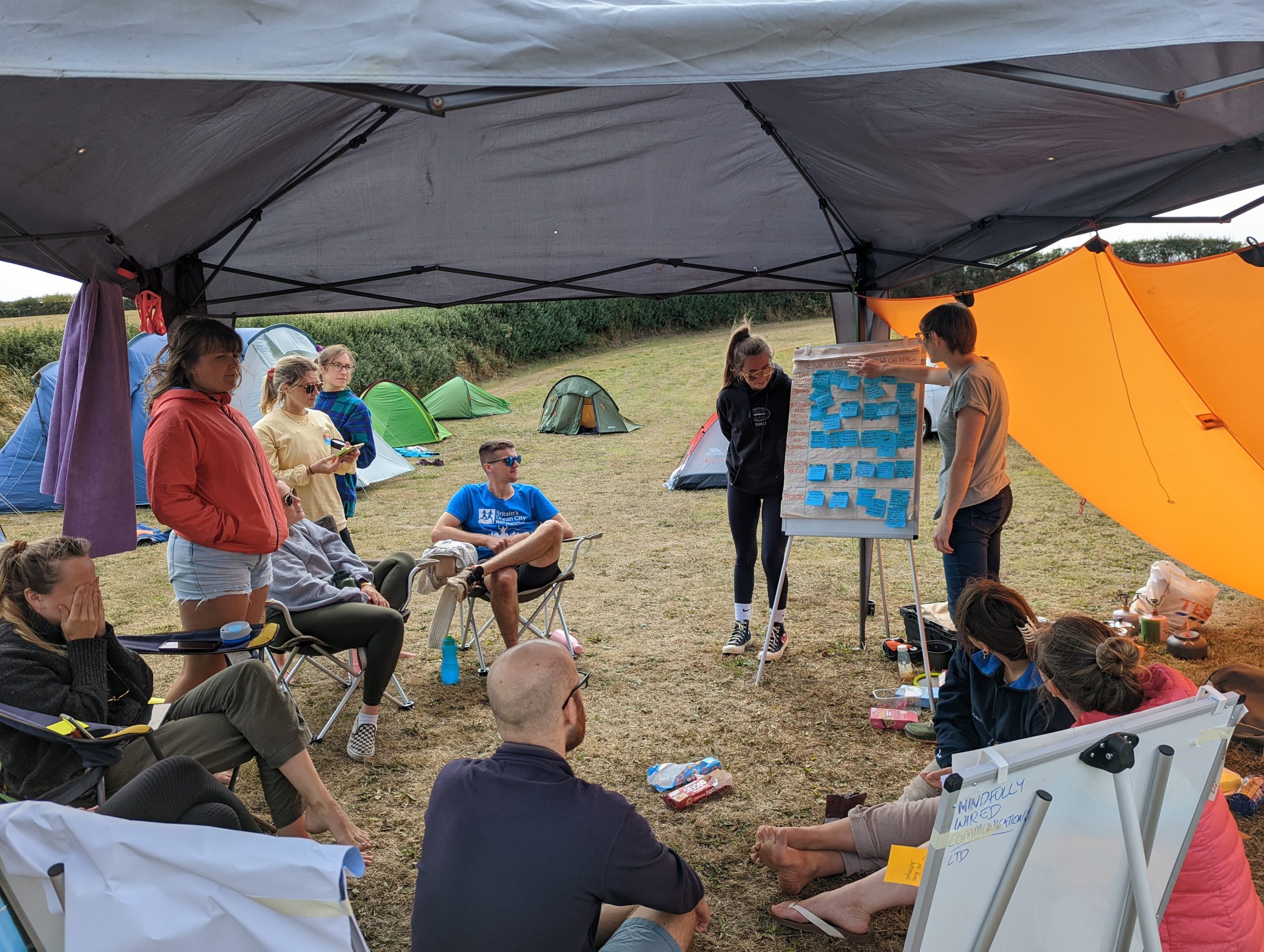 While we've long believed that our team has that something special, our away days were a chance for us to regroup, deepen our bond and learn more about each other. We thoroughly enjoyed every second of it and we definitely strengthened our team. 
Associate Director, Harriet, highlighted her thoughts about the trip: "I have the absolute pleasure of navigating the MWC team through the year while MWC's Director, Katrina Ryan, is on maternity leave. One of my first tasks as Acting Director (I wouldn't say it was the most important, but it was certainly up there) was to organise the team away day. 
It was an absolute delight to get out of the office, away from our screens and into nature. I was bowled over by how strong the team's bond was outside the office; this was evident as I watched them help put up each other's tents, make breakfast, and succeed at not drowning each other during the team-building activities. 
One of my favourite parts of the away day was exploring how the team works together. For me, opening up opportunities to discuss areas where we excel and where we could improve goes a long way to building a strong, resilient and happy company."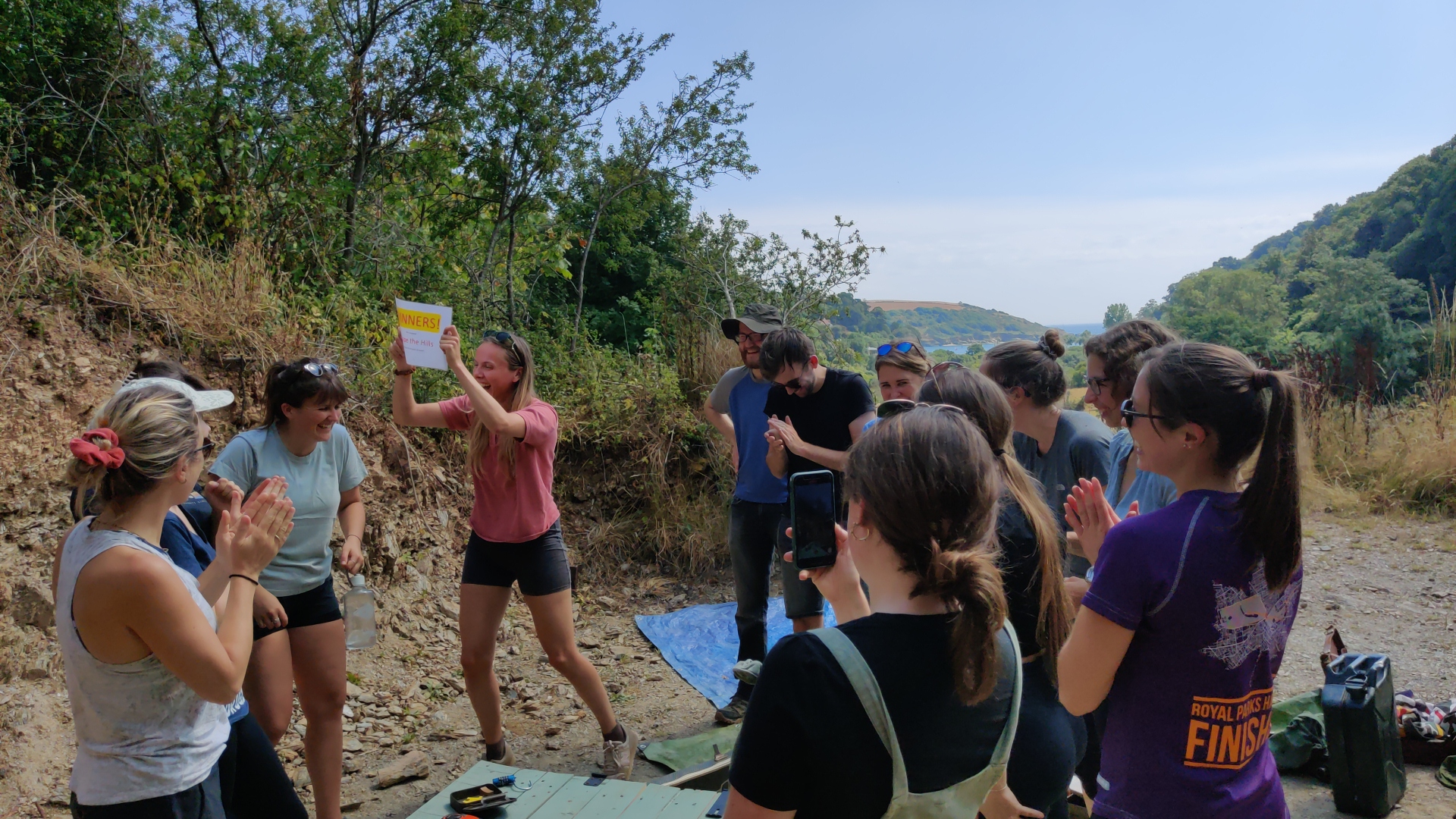 Hear more from the team!
Fiona, MWC's Senior Policy Officer, shared her highlights: "I count myself extremely lucky to be part of this incredibly supportive, fun, and overwhelmingly kind team of outdoorsy humans. I felt inspired when we collectively reflected on what MWC does well, and valued when we discussed where there is room for improvement."
Our Policy Officer, Chantal, said that the trip was a way of "tapping into MWC's spirit of cooperation – whether that be in an escape room, a strategising session, or working collectively to capsize the other team's mega paddle board."
Our Creative Projects Manager, Rachel, expressed how "we haven't had the whole team – events, creative, and sci-pol – together in SUCH a long time. It was so valuable and reminded me just how much talent and creative thinking we have across the company. Plus you see your colleagues in a totally different way once you've paddled alongside them on a super SUP for 2 hours."
Science and Policy Projects Co-Manager, Jacob, said "The team days were great opportunities to confirm what we always suspected – that everyone in the team is so talented at not only their jobs, but also a bewildering range of other tasks too, whether it be cracking codes, coordinating rowing strokes, interpretive dance, or contributing to the ethos and future direction of Mindfully Wired itself."
Our Events Officer, Amy, reflected on the trip and said "The trip reminded us all, yet again, of how valuable it is to have friends as co-workers, and co-workers as friends. Of all the amazing things that MWC is, and does, the people make it. A happy bunch of humans, not afraid to dive in and make a splash (literally)."