MUSINGS FROM OUR RETURNSHIPEE ON INTERNATIONAL WOMEN'S DAY
March 8th, 2021
A Returnship, what's that when it's at home? I hear you ask. A Returnship is a truly wonderful opportunity for women to return to the workplace, which seems rather fitting, given that it's International Women's Day… Hear from Rebecca Du Pontet; an ex-creative manager from the world of publishing keen to bridge the gap into the environmental and values-based sector; which is great for us, too – as we get to soak up some of her excellence…
---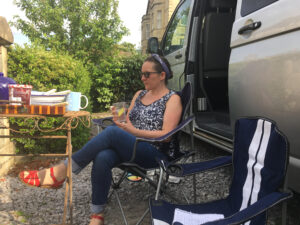 There I was, floundering around, trawling through job vacancies, putting my heart and sole into each and every application and trying to fathom what on earth I'd do next, when along came this incredible oppor-tuna-ty. OK, I know, enough of the fishy puns…
Having worked previously as a creative project manager for many years, I was keen to make a move into communications, ideally for a charity. It may be a well-worn cliché, but as an ardent environmentalist, I wanted my next role to be something meaningful – hopefully one I could feel proud of. But, fallout from the evil corona meant a seriously challenging jobs market, especially for women, who have been disproportionately affected by this 'unprecedented' time.
Imagine my delight when I stumbled across Mindfully Wired's Returnship programme.
A not-for-profit company dedicated to delivering positive environmental change AND empowering women? Pinch me now. In short, the sort of place I dreamed of being a part of, even for a little while. From the off – the very first email – there was warmth and consideration. I was seen! These are qualities all job seekers, especially women, will be forever grateful for.
So here I am, back in the game. Hanging with the marine crowd. They say follow the science, and I did, and it's led me to these marvellous merfolk. It's truly refreshing to have found a company with the vision to celebrate and support women in such a way. After all, the very best thing you can do for someone is to give them a chance, regardless of sex, age or frankly, anything other than their skills, passion and can-do attitude. Women looking out for women – it's a powerful thing indeed.
I fretted that with the challenges of the dreaded Covid, I'd never get the chance to become a returnshipee – that remote working would grind my dreams to sand. But it seems nothing is impossible, and here I am, three weeks in, soaking up marine life like a thirsty sponge, and loving every minute of it.
It turns out that you can get to know people over an interface, and that pretty soon you stop worrying about whether you look weird or have lost the ability to converse with anyone new. It's actually OK. It's not contact as we know it, but it's still contact. And the ease I've felt is all down to the MWC family, because they've been absolutely awesome (and so far, not a quiz in sight –phew).
Perhaps one positive to come out of this crazily awful Covid time is a move to greater flexibility for employees, who have proved over the last year that remote working doesn't have to spell the end of productivity or camaraderie. Do I spy a sea change coming? I hope so.
So, what have I been doing? Virtual filing? Imaginary tea rounds? Not a bit of it. I've been given the opportunity to dive right in, from proofreading weighty scientific tomes to helping shape a 'Living Coast' virtual event. I'm constantly learning (and madly researching) – the days are flying by (too fast). I'm looking forward to some inspiring International Women's Day content and getting stuck into some delectable Seafood Cornwall fishy recipes. I may still have my sea legs, but I'm finding every minute endlessly fascinating and hugely rewarding.
The MWC crew are a seriously friendly bunch. It's clear that everyone absolutely loves working here. They're united in a purpose, and what a purpose it is. Even from the safety net of my own home I feel that passion. And there's fun too, which you need when you're working hard – sourdough starter and 'what did you have for breakfast' chats. After a while you don't feel remote at all. I'm having an absolute whale of a time.
Opportunity, support, flexibility, and an amazingly positive workplace – these are all elements of my returnship experience, and all integral to championing women's achievements and visibility. I feel hugely honoured to be the very first Return-shipee at Mindfully Wired, and I know I won't be the last.
Who knows what lies ahead on the horizon for me, but what I do know is that this journey will be one I'll never forget. And I couldn't be more grateful.
Thank you MWC – you absolutely rock.
What else do YOU think could help women back into work? Answers on a postcard, please (or just below in the comments section)…