The intricacies of Science & Policies
Communicating effectively involves taking complex ideas and making them as accessible as possible, and that is what Team Science and Policy (or – 'SciPol', to their friends) is all about. They handle some of MWC's weightiest roles, working directly with the scientists, policymakers and sector organisations at the forefront of marine decision-making. Jacob Ashton and Elle Sibthorpe, two devoted SciPol-ers, explain more.
June 17th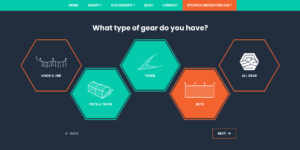 There are scores of scientists doing amazing science, and plenty of policy-makers putting out excellent policies, but a lot of this work takes place out of the public eye. Even when it does reach the outside world, a big chunk of its meaning can be lost in technical jargon or dense reports. Bridging this gap is where MWC's SciPol steps in – combining nitty-gritty know-how with a flair for approachable communications that connect the dots between science and the values of the people with whom we work.
Jacob: When I joined MWC back in early 2019, Team SciPol was nothing but a glint in the Director's eye. Since then it has grown into a tour-de-force, tackling everything from high-profile Parliamentary events, to copyediting of EU reports, to building websites for pioneering funding programmes.
So, what exactly *do* we do?
Though we may be a bit more behind-the-scenes than our friends in Team Creative, we specialise in getting important ideas into the open, in exciting and engaging ways.
We are translators – taking complex projects and reports, and producing digestible and interesting outputs that our clients can use to show the world just how great and relevant their ideas are.
We are researchers – using our diverse backgrounds in science, humanities, languages and policy to delve into the heart of a topic, and present it in an impactful and engaging way.
We are facilitators – bringing people together through events, workshops, and meetings to discuss important marine issues and pave the way for collaboration and progress.
The APPG on Fisheries
As the Secretariat for the All Party Parliamentary Group for Fisheries, we work to connect MPs and Peers from across the political spectrum with a diverse array of fisheries stakeholders. Our Parliamentary events attract industry members, NGOs, policy makers, and practitioners from many walks of life to discuss important topics for fisheries and fishing communities.
Since the pandemic took off, events in-person have not been possible – so we took the APPG online. This had the welcome side-effect of bringing in more participants than ever, as people involved in the fishing industry from every corner of the UK and beyond could now easily access our events. Given the dispersed and remote nature of many fishing communities, this has proved an invaluable opportunity for collaboration and sharing insights. Earlier this year, over 300 attendees from across the nation joined our webinar to hear from George Eustice MP, Secretary of State for Defra, who answered their questions on the latest political developments for the UK's fisheries.
Once events are over, we put our research, writing and design skills to good use and produce slick and digestible policy briefs, to be used by Parliamentarians and anyone with an interest in fishing. We also keep tabs on everything fishing-related happening in Westminster – such as the Fisheries Act, or the impact of Brexit on fisheries – and relay this information to our audience through newsletters, digestible articles and an active social media presence. The APPG has grown massively since MWC has been at the helm, and we're looking forward to taking it even further.
CABFishMan
Yep – it's a bit of an odd acronym, but its full name; the Conserving Atlantic Biodiversity by Supporting Innovative Small-scale Fisheries Co-management, is quite the mouthful. The consortium is an international research group, working across five countries to establish recommendations for ecosystem-sensitive co-management of small-scale fisheries in the Northeast Atlantic. No mean feat.
Our job, as part of a communications team headed up by the Marine Alliance for Science and Technology for Scotland (MASTS), is to support and enhance the work of all partners through dynamic and engaging comms. To date, this has meant crafting a tailored communications strategy, creating beautiful branding and a project logo, and building a bespoke website.
As CABFishMan moves into its next phase we have our work cut out for us! Initial outputs and recommendations from research will be transformed into dynamic, video-based policy digests, along with press releases and email updates. Tools that place the fishing industry at the heart of decision-making will be showcased in online workshops, and – to make sure CABFishMan stays personal and approachable – the communications team will be creating a series of video interviews with project partners, allowing them to share the contributions they are making in their own words, and in their own language.
The work of CABFishMan has huge potential to change the course of how small-scale fisheries are run across the Northeast Atlantic, and we're incredibly excited to add our flair and play our part in communicating that potential!
*
These two projects give just a little insight into the intricacies and mysteries of MWC Team SciPol. We always love a challenge and relish the opportunity to put our technical and comms skills to good use in all manner of contexts – the more variety the better, as long as the projects reflect our values. This is how Team SciPol's work supports MWC's ultimate goal: to promote values-based outreach and collaboration across the marine space. We use these skills to drive progress, to help different people and organisations to understand one another and cooperate, and to make changes for everyone's benefit.