The 12 days of Mindfully Wired: 2022
2022 has been a year of getting back out there again for Mindfully Wired. No, we don't mean after a messy break-up. We mean literally getting kitted out in our coats and wellies to explore drizzly harboursides, donning our best professional attire for hosting seminars and workshops, and going full out glamour for marine-themed galas as "in-person" made a much-welcome return to our lives.
We said hello to more keen marines and another new office space, and a goodbye (for now) to our Director Katrina, who has been fast-tracking the latest applicant to the team, her extremely cute new-born daughter, Marina. Let's have a reminisce of all the year's adventures from our Events, Creative, and Sci-Pol teams as we gear up for more oceanic escapades in 2023.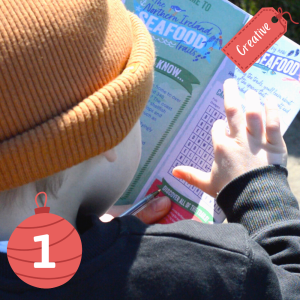 It's coming home!
The romance we've been cultivating between British seafood and the public continued this year. We followed the droves of holidaymakers heading down the coast to Cornwall this summer. We also crossed the Irish Sea to map out Northern Ireland's diverse seafood scene in a series of trails. Meanwhile, Discover Seafood continues to grow, cultivating relationships between ports, retailers and seafood lovers.
Taking advocacy offline
After predominantly working with pixels on a screen for two years, it's been refreshing going back to ink on paper. We traversed across Northern Ireland, stopping off at schools to impart some nuggets of seafood wisdom. We distributed stickers to fishers to promote the latest series of the commercial fishing podcast, Fathom. And, for the GTA, we handed out branded fortune cookies to delegates at this year's WCPFC meeting in Vietnam.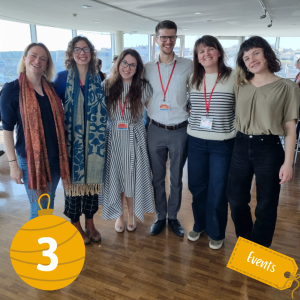 All hands on deck
The highly-anticipated return to in-person events saw us working in multiple venues across the UK to deliver ambitious multi-day conferences on a medley of ocean issues. We worked with Defra and Cefas on by-catch reduction workshop, Hauling Up Solutions 2. SMMR Annual Conference had us balancing workshops, speakers, remote participation, poster presentations, and a conference dinner (watch this space for SMMR 2023!).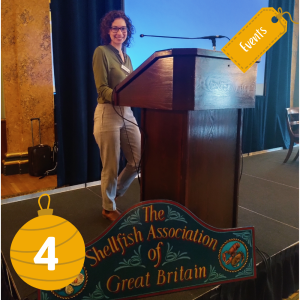 One bucketload of shellfish, please
2022 has been the Year of the Shellfish for us here in Events. We've run hybrid operations within the grand, gilded walls of Fishmongers' Hall for the SAGB Annual Conference, coordinated all aspects of the cutting-edge Shellfish Centre Final Conference at Bangor University, and hosted multiple online shellfish symposia on crabs, lobsters and whelks for Blue Marine Foundation. Flexing our shellfish mussels (!) like never before.
Celebrating – and communicating – equity in fisheries management
Equity in management, and acknowledging the value of diverse knowledge types, have been at the forefront of our minds this year. Our #WeFishTogether campaign sought to prioritise the voices and knowledge of artisanal fishers on the global stage. Closer to home, our work with Future of Our Inshore Fisheries continues to draw upon knowledge of inshore fishermen to deliver collaboratively-developed policy.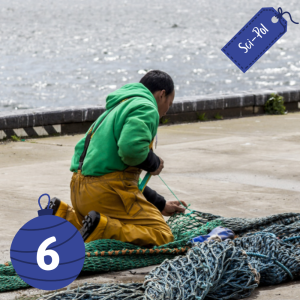 Steering the course of new policy
In 2022 we reprised our starring role as Secretariat of the Fisheries APPG, hosting five public meetings with cross-party MPs, as well as releasing a synthesis of fishing perspectives on Brexit which was discussed in Parliament. As Secretariat of the UK Blue Carbon Forum we're connecting NGOs and academics with the public sector to help them address policy's most pressing blue carbon questions.
A shedload of websites
We've been collaborating with our master of web development, Ben Stones, to create some cracking new websites. This includes a brand new website for seafarer safety campaign Home & Dry, packed full of information and materials to help fishermen stay safe at sea. We've also been working on sites for Vietnamese-based research project "3SIP2C", The Scottish Marine Envrironment Enhance Fund (SMEEF) and The Global Tuna Alliance.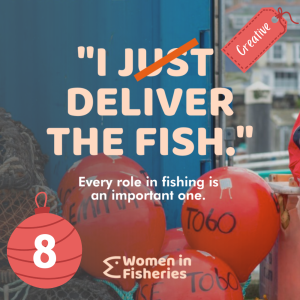 The art of wit and memeology
Parody and wit are becoming more important tools on social media to capture people's attention in an over-crowded market. Take for example, how we created a parody of the Wizard of Oz's "Follow the Yellowbrick Road," which we reinterpreted as "Rebuild Yellowfin Tuna" for one of the GTA's flagship advocacy campaigns. Or how about our efforts to remove the word "just" from our vocabulary when talking about women's contribution to fishing.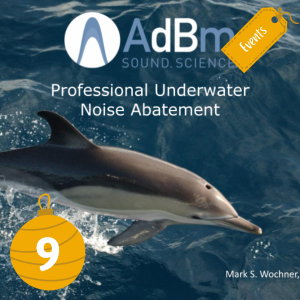 A fairer transition
With the UK's plans to increase offshore wind energy production over the coming decades, we're working alongside clients committed to reducing the environmental and social impacts of this expansion. Working for clients like ECOWind Programme, Defra and RSPB has seen us designing, organising and hosting underwater noise mitigation workshops, stakeholder engagement events, report design, and cutting-edge research alignment sessions.
Back to school for events
Whilst coordinating all online elements of the international SOLAS summer school, we juggled competitions, workshops and online networking – keeping up with the complexities of gas transfer at water surfaces (and bubble science?!). Switching tack, we worked alongside Surfers Against Sewage to develop and deliver online training sessions for teachers in their Plastic Free Schools network, aiming to create a stronger sense of community amongst the 3000+ schools who are signed up.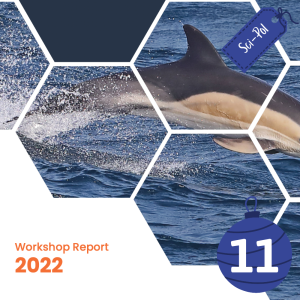 Diving to the heart of key issues
The last few years have heralded momentous change for the fishing industry, and 2022 saw us diving to the heart of a number of key turning points – from an exploration of resilience in the UK fishing industry to a seminal report on innovative approaches to reducing wildlife bycatch. We're looking forward to continuing our work at the core of such challenges into 2023!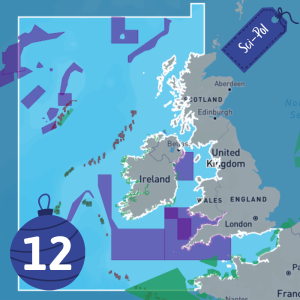 Developing tools for sustainable use of our seas
If Sci-Pol had to pick a buzzword for 2022, it would be 'tool', and we're proud to have added a few corkers to the coastal management toolbox! MaPTA is a user-driven tool that helps users identify potential trade-offs of proposed policy interventions. We also helped develop the AC FishMap that lets users explore the regulations, designations, and infrastructure of Europe's North Western Waters.
Wishing you all a safe and wholesome festive break, and a wonderful start to your 2023.
From the Mindfully Wired team.