Transcending disciplines at the SMMR Annual Conference
The Sustainable Management of UK Marine Resources, or 'SMMR' is an initiative designed to fund research to bridge important knowledge gaps in marine management across the UK. With a special interest in bringing together a strong, highly collaborative community of scientists, policy makers, and stakeholders, the SMMR Annual Conference is an opportunity for community members to meet, network, and reflect on their SMMR-funded project work. And over here at MWC, our Events and Science Policy Teams took charge of the event for the second year in a row. Jack Walker, one of our Science & Policy Officers, takes a deep dive into the key themes of the conference.
"You wouldn't assume the ecology is the same in different places, so why would you assume the social values are the same?" said Dr. Fletcher of the SMMR-funded project Integrating Diverse Values into Marine Management. This comment, made on day one of the SMMR annual conference, stuck with me. As an individual with a broad background in the sciences, my concept of subjects like coastal and marine management saw social values as satellites, orbiting around marine science, engineering, and other 'hard' STEM solutions to these issues.
Bridging knowledge gaps
Not only were backgrounds varied at this conference, but talks invited individuals from all stages of their academic or professional journeys to have their say. Seeing Samuel Barker, of the Pyramids of Life project, speak about his master's thesis investigating the fish-eating habits of young people, grabbed my attention. If current postgraduate students interested in marine management are doing such impactful work, alongside the veterans of marine management, then – I pondered – surely the future of marine management is in good hands? 
When the Q&A panels commenced, every question was preceded with such statements as 'This is coming from an ecologist with no knowledge of business…' or 'As a businessman I feel out of place here…'. People were keen to bridge the gap between subjects that they hadn't put any thought into previously. This, alongside the constant stream of business cards passing from one hand to another  created the unmistakable impression that the audience was diversifying their network and opening their minds to vastly different approaches to addressing key issues within their projects. 
Transcending disciplines
How can applying storytelling techniques to climate change issues help with coastal management? Should we apply value to the cultural heritage of fisheries? Is it possible to map coastal capital? Can we apply habitat modelling to locate potential seagrass meadows? All of these questions were key topics within talks, workshops, and poster presentations, and all originated from greatly contrasting perspectives, vocations, and backgrounds. Marine biologists, theatre practitioners, economists, and seemingly every expertise in between shared their insight into a sustainable marine future for communities, industries, and ecosystems across our waters. 
Objectively, you can't help but think that these individuals lack shared ideas, understanding, and expertise due to the unique and varied nature of their work. 
But this couldn't be further from the truth…
The same questions echoed around the room, 'How can we help your project?', 'Does anyone have any insight into how we can move forward with this element of our work?', and 'How can we quantify this to effectively implement it into marine management?'. All around me was the buzzing excitement of an atmosphere that invited open collaboration, and all attendees embraced it.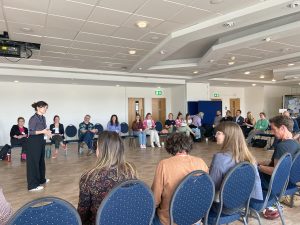 Putting on a show
I lost count of how many times an ecologist raised their hand and commented on the value of an insight originating from the opposite end of the academic spectrum to their subject of choice. A memorable moment I have taken from the experience was during the Diverse Engagement Methods open workshop, where theatre experts who were utilising acting to connect with coastal communities in Shetland and Portsmouth shared their experiences with the wider SMMR audience. My attention spiked when the topic came around to a particular Coastal Management MSc course in Portsmouth, where students were invited to 'act' out a coastal management discussion as fishers, government officials, and NGO members. No planning, no script, just all-out arguing, discussion, and imagination. This caught my attention, but I wondered what value the exercise held?
Then I saw it in action!
The Diverse Values team acted it out, and suddenly I was in a room with a fisher whose family had been riding the waves of this part of the coast for fifty years, arguing his heart out with a passionate Greenpeace member, all the while an MMO representative tried, and failed to mediate. 
None of these volunteers actually had any experience of the lives they were playing; they just fully embraced the roles which they were randomly assigned. . Conversations were then filled to the brim with insights on these issues. The audience were instantly engaged – they laughed, leant forward in their seats, and commented afterwards on the usefulness of the exercise in illustrating the complex relations of stakeholders in the coastal environment, and they went straight into discussing how they can use this in their corners of marine management. 
The insights I received from the social scientists and theatre-goers of SMMR has made me consider marine issues with viewpoints like – 'Have I considered every approach to this?' or a science communicator where speaking to a broad audience is essential, is there any better takeaway? 
Broadening our marine minds
These are just one or two of the many threads that forged a wider web of multi-disciplinary connections at the conference, but all these experiences coalesced into a huge takeaway for me (and I'm sure many other like-minded attendees too!): Collaborations between disciplines aren't just great for marine management's sustainable future, they are absolutely essential. 
In the face of climate change, a biodiversity crisis, and the social and economic issues of the modern day, it is paramount that experts, industry members, and policy makers talk to each other. SMMR's three key themes of understanding values, building management tools, and supporting policy cannot exist in isolation. Social scientists excel in understanding values, scientists are key in providing tools to better manage our resources, and who is better to inform on policy than policy makers themselves? The dialogue that opens up between these different parties at events like SMMR's Annual Conference is community-building, and from that community, comes new and invigorating approaches to managing UK marine environments.