What is a hybrid event and why is it so popular?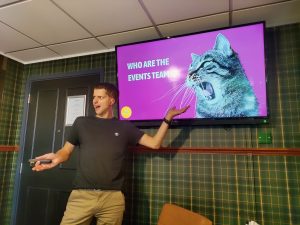 Two years ago, the world scrambled to adapt to a new norm, and virtual events went from murky unknowns to stardom. Our Events Team hit the ground running, zipping between clients in the fisheries, marine, and sustainability sector to deliver conferences, workshops, focus groups, and more. Our clients gave us their vision and we transformed it into a virtual event.
Now the world is opening back up, and there's a buzz in the air as people talk about in-person events again. Not only are in-person events firing up, but there's a new trendy style of event in the air – a hybrid event. But what is a hybrid event and why is it so popular?
Tell me about hybrid events
Hybrid events are a fairly new concept in the events landscape, but their popularity stems from providing attendees with the option to attend an event either in person or online. You can have the tradition of an in-person event, whilst collecting all the data insights of a virtual event. Which sounds, to us, a little like having your cake and eating it too.
Hybrids are also a great opportunity to boost the accessibility of an event. Anyone who doesn't have the time or budget to travel, or who prefers to keep a low carbon footprint (our kind of people!), can participate from the comfort of their own home or office.
There's a huge variety of different options for hybrid events, which enables you to tailor your event to match your logistical, operational, financial and attendee requirements. No two events will look the same, which is a thrilling prospect for our Events Team, who thrive on finding creative solutions to new challenges.
Into the world of hybrids
In the past few months, we've jumped in head first and delivered a variety of hybrid events for our clients. In March 2022 we were at the National Marine Aquarium in Plymouth, leading the organisation of an interactive, three day workshop exploring solutions to reducing bycatch in fishing. In addition to leading the in-person elements, our team also streamed the workshop over Zoom to online attendees, ensuring that they could see and hear speakers, and participate in Q&A discussions.
Events Team's next step up came in May when we utilised the 'divide and conquer' strategy to deliver two hybrid conferences in Bristol and London simultaneously. In Bristol, we managed the Sustainable Management of UK Marine Resources (SMMR) conference, which included two days of presentations and poster sessions, followed by a day of interdisciplinary workshops. We handled all technical functionality, a task that varied from handling an online event webpage, to streaming the event, to running around with a microphone during the Q&A sessions.
Meanwhile, the other half of the Events Team were in the grand Fishmongers' Hall in London, supporting the hybrid delivery of the Shellfish Association of Great Britain's annual conference. Here we managed all online logistical components to connect virtual attendees to the room and vice versa, facilitating engaging discussions and knowledge sharing.
And recently, our Events Team also delivered a new challenge from Plymouth Marine Laboratory – could we deliver all online elements of a hybrid conference remotely? We rose to the challenge, supporting all online engagement and screen-sharing from Bristol, during a five-day international symposium on gas transfer on water surfaces in Plymouth.
Can you help me organise a hybrid event?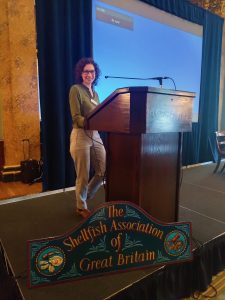 Absolutely! Our Events Team love to jump in and can help you through the whole process, from designing your event, to managing registration, wrangling speakers, and delivering an impactful event that hits all your expectations and project requirements. We work collaboratively with our clients to facilitate practical delivery, enabling you to breathe easy and focus on your event aims, whether they be sharing knowledge, driving positive change, making decisions or otherwise. We also like virtual events and in person events too, if those are your jam.
Drop us a line and we can talk you through what Mindfully Wired can do for you.