Working the land: Reflecting on our Team Day at the farm
Head of our Creative and Marketing team, Rachel, reflects on the Team Day we had back in the summertime, and how the takeaways might not be the usual suspects you'd expect from a corporate away day…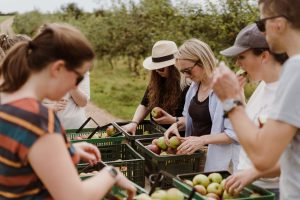 No, we're not starting our own cider side hustle (although it's certainly an idea we've pocketed for now). These photos are actually from our recent Team Day, which was spent at the Community Farm in Chew Valley. 
It was a chance for us to come together and go fully off-grid, leave behind laptops and phones, and swap our office for the most darling yurt you ever did see. Fortunately we were also graced with the only sunny day of August. It was off to a good start. 
After a quick round of "what's your favourite fruit or veg" (which, by the way, is a conversation-starter I'd recommend for any dinner party) we began de-weeding fields and harvesting apples.
I'm aware of the clichés and connotations that come with a corporate away day spent working on a farm, but the work couldn't have been more of a perfect contrast to our usual to-do list. Hands in the dirt and heads in the sun, we used our bodies to do stuff, rather than our minds – which were then left to wander wherever they so desired, until the work was done. 
After lunch, our very own Events Officer, Amy, facilitated a creative workshop to get us thinking about niches. At Mindfully Wired, we're a team of polymaths. You have bycatch specialists working on websites, event wizzes smashing out social posts, and creatives facilitating stakeholder discussions. Where the job requires, we apply our skills to a range of areas, and it makes for far more creative and multifaceted ideas, as the outcomes bridge disciplines and aren't constructed in silos. 
But something we also explored were the unique skills which each individual brings to the team; identifying those skills that help shape our workplace identity, that we can each hang our hat on, and that are OURS to own. We individually contemplated this, and scribbled it on a post-it. Post-its were then shuffled (as easily as post-its can be shuffled), and re-distributed with the goal of finding its owner. I'm pleased to say that my post-it was immediately returned to me as soon as Amy counted down from three, by a giddy-looking Martha who knew I'd write something about doing 'the unexpected'. 
It got me thinking how important it is to have a team built from different backgrounds and myriad perspectives. A lot of the projects at MWC could fall to any team; but we make sure they're led by the person whose point of view is most valuable for that specific project's vision. Take the Global Tuna Alliance for example; an advocacy project about influencing fishery ministers on sustainable management of stocks. It has Science & Policy written all over it, but the project sought to stand out from typical fisheries policy campaigns, and for that reason, it came to us – the Creative team – a mismatch of politics pros, advertisers, nature-lovers, and videographers.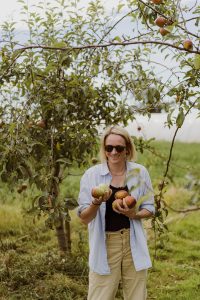 Armed with this insight into what we specifically bring to the team and our collective strengths, we broke out into pairs to envision future endeavours for Mindfully Wired. Cross-team collaboration, more MWC-led ventures, and community events were common ideas in the workshop (with the occasional mention of David Attenborough as special guest, obvs) and we will continue to creatively explore how we can translate this into a reality.
Throughout the day there was one common theme: our people. Maybe it was because of the morning we'd had "working the land" together, but the importance of human interaction was our key takeaway, rather than  'tech', 'digital', or 'utilising the power of AI' – the usual suspects of a forward-thinking corporate away day. Yes, those things are important for a future-looking company, but without human relationships at the heart of what we do, we forget our core purpose and our key strength: the magic that happens when you get people in the same room (or yurt), fusing specialisms, bridging sectors, and creating connections. 
So, as to the future of Mindfully Wired, we know we can confidently flex and adapt as we always have done, safe in the knowledge that our people are our greatest asset. And if AI does ever take over, well, at least we know we have a future in apple harvesting…